Check out: The Happy Entrepreneur: Get Profitable! a PDF guide to get profitable using your skills, talents and knowledge with do-it-yourself entrepreneurship.
Info Age Etiquette
There was a time when being a liar was about the worst reputation that a person could carry, far up on the list with murder, for instance.  In some ancient civilizations, an individual who came to be known for spreading falsehood might commit suicide before living the rest of their days with such a mark of moral shame tattooed upon their character.
Equally, if someone ignored their debt, they had no option of filing for bankruptcy.  If they didn't pay back what they owed, they were simply known as a thief.
For those of us who have decided to be a voice in the Information Age, we know that there are audiences of people who rely on our information to influence many important areas of their lives.  That bears us with a great privilege and also a great responsibility. The Writer possesses an amazing power.  Most of the laws that we abide by and the beliefs that we have adopted began with documentation.
These days, anyone who has a thought, and is willing to share it has the capability to distribute their views at-will.  With the influx of social media, there are now over a billion "newspapers presses" that are feeding all four corners of the earth with information non-stop. But feeding them what?
Is there anything that you can do to be a more conscious leader in the information age?
Copyright © 2016 Waymon Brown
The Happy Entrepreneur: Get Profitable! guide can help you serve your unique audience in the information age!  Are you ready?
Become a subscriber to www.TheEsquireProject.com and get (3) gifts. 1.  Start every week off with a big dose of unstoppable confidence in your pursuits by joining: The Weekend Minute, a 30 minute monthly conference call that helps you stay inspired in your journey of entrepreneurship.  2. Receive a copy of: Dream & Achieve!, an easy and simple guide to help you accomplish your goals.  3.  Enjoy a complimentary sample of: The Happy Entrepreneur: Get Profitable! guide. Experience it all by subscribing here!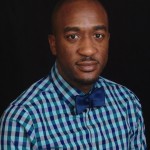 Written By: Waymon Brown. Creator of theesquireproject.com. Email info@theesquireproject.com